Solutions to Recover Corrupted Exchange Server 2010, 2013, 2016, 2019 Mailbox
The collaboration platform pairing of Exchange Server and Outlook has been a successful platform. Most business organizations adopt it to improve their overall performance. Exchange Server has been enhanced with Outlook®, which has earned a reputation as a competent email client and personal management tool. The components of Exchange Server 2010, 2013, 2016, 2019 are mailbox databases and public folder databases.
A mailbox database consists of data definitions, data, indexes, checksums, and so on. The mailbox database contains personal data of individual users. Exchange Server uses mailbox databases to maintain user databases contained in EDB files.
Corruption of Mailbox in Exchange Server
Occasionally mailboxes can become corrupted, which can result in the loss of the entire database. Corruption can be due to various reasons like virus or malware attack, sudden shutdown of Exchange Server, increase in EDB file size, file corruption in EDB database, etc. While all these corruption issues rarely occur, there must be a solution that prepares for such situations.
How to Recover Archived Emails in Exchange Server 2019?
Methodologies in Exchange Mailbox Corruption
To recover data from damaged Exchange Server mailboxes, the following methods can be used.
Let us discuss the two methods in detail…
Method 1: Execute In-built Exchange Server Command
Before Exchange Server 2010, Isinteg was one of the most effective programs to remove inconsistencies related to Exchange databases. However, in Microsoft Exchange Server Service Pack 1, the Isinteg tool was replaced with the following new feature: the New-MailboxRepairRequest cmdlet. Unlike Isinteg, which requires the database to be uninstalled, this command can be run on an installed database.
This command can repair corruption of a single mailbox or an entire database. It scans the folders for corruption and fixes them one by one. The New-MailboxRepairRequest cmdlet detects and repairs the following types of mailbox corruption:
Find easily damaged folders and fix them one by one
Check folders in ptagRecursiveSearchFIDs, ptagSearchBacklinks, ptagSearchFIDs and remove non-existing folders
Check for folder corruption using the SearchFolder value of the CorruptionType parameter
Summarize the count of folders that do not display the correct value by implementing the AggregateCounts value of the CorruptionType parameter
View folders that do not display accurate content using the FolderView value of the CorruptionType parameter
Correct provisioned folders incorrectly referencing the parent folder using the ProvisionedFolder value of the CorruptionType parameter
After running the New-MailboxRepairRequest cmdlet, it will display output with values such as RepairTaskID, Mailbox, Server, and Database. Finally, items from the damaged mailbox are recovered.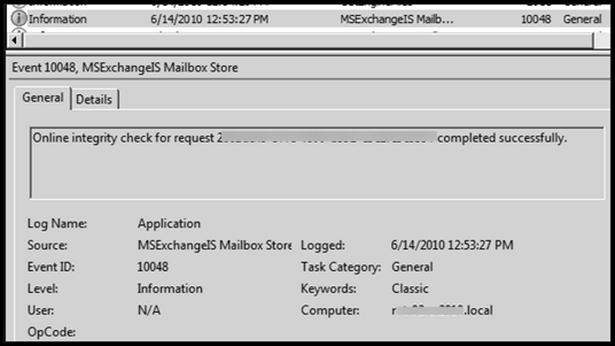 Note: In the case of the command-line utility New-MailboxRepairRequest cmdlet, a user can have one database-level repair request and 100 active mailbox-level repair requests working on a single server.
Best Solution for Corrupted Exchange Mailbox
Micrsoft Exchange Server mailboxes are vulnerable to data corruption or data loss due to known or unknown reasons. Full mailboxes recovery can be performed using the RecoveryTools Exchange Server EDB Recovery Tool. When mailbox items are saved in Exchange 2010, 2013, 2016, 2019, it uses the EDB file format. This tool can easily fix any EDB related issues.
Method 2: Mailbox Recovery from Outlook OST File
The OST file (Outlook Data File) uses the default cached exchange mode to store all your mail and other items from your Exchange Server mailbox on your computer. This cached exchange mode works by making a copy of the exchange server's mailbox on the local hard drive.
How Can the Offline Storage Table File Help a User?
OSTs contain copies of Exchange Server 2010, 2013, 2016, 2019 mailbox folders. The Outlook® email client periodically creates an OST when a MAPI profile is configured to enable offline access. When Outlook creates an OST file, it adds all the folders including Inbox, Sent Items, Outbox, Notes, etc. These folders allow users to work on the server when it is offline.
They allow you to move folders from a server location, using the contents of the folder when you are not connected to the network. When the connection is activated again, the folders are automatically updated and their corresponding server folders are updated so that the content of both folders is the same. This process is called folder synchronization.
Offline OST File Corruption Scenarios
When an Exchange Server mailbox gets damaged, the OST file in the Outbox automatically becomes inaccessible. To recover inaccessible, orphaned, or damaged OST files, the best solution is to recover them into PST format. This can only be done with the help of automated solutions.
OST Recovery Tool provides an effective solution to speed up the recovery of inaccessible, orphaned or damaged OST files. The tool provides the added benefit of restoring OST files to multiple file formats for better access on multiple platforms.
Summing Up
In this informative content, we described the potential solutions to recover corrupted Exchange Server 2010, 2013, 2016, 2019 mailbox items. Also, the manual and automated solutions describe in detail.