How to Save EML from Gmail Account to Microsoft Outlook?
Most email clients and email services have an export feature. So also you can save Google Mail to a format supported by other applications as well. However, the process is very tedious and requires a lot of effort when we talking about lots of emails. In this blog post, we will explain briefly how to save EML files from Gmail on your PC manually.
Also Read: How to Import EML to Office 365 Account?
How to Save EML from Gmail Manually?
EML files are used by many email clients and webmail, such as Gmail, Outlook Express, Windows Live Mail, and Mozilla Thunderbird. You can use these EML files to store email messages, attachments, email addresses, and header information on your computer. The section explains how to same Gmail emails as EML format. Follow the steps:
Step 1: First, Login to Gmail by Valid Email ID & Password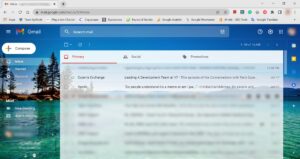 Step 2: Next, Open the Desire Email and Go to More Option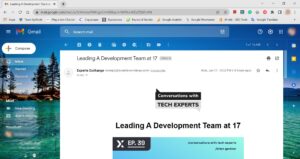 Step 3: Next, Select Download Message Option from Drop Down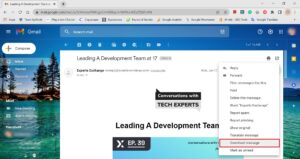 Step 4: Finally, Go to Download Location and Check Email with .eml Extension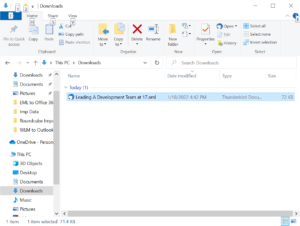 Repeat the steps again and again for saving all emails. It's a time-consuming process but free process.
How to Save Gmail EML to Outlook?
Popular desktop email clients such as Outlook support the import feature. So you can save email messages with attachments. There is a solution that allows you to save Gmail emails in Outlook. Users must save their Gmail email messages in EML (E-Mail Message Files) file format.
Once you save all Gmail emails in EML format then use RecoveryTools EML to PST Converter Software. This tool helps to save any type of EML files into Outlook data files. Save all Gmail emails with attachments in Microsoft Windows 11 (64 Bit), 10, 8, 7 (32 Bit and 64 Bit) OS and Windows Server 2016, 2012 R2, 2008.
Highlighted Features of the Tool
Supports Saving EML files with attachments to Outlook file format.
Save EML files by preserving text format and attributes.
Apply date filters and save selected EML files to Outlook format.
Save EML files for selected items or folders to Microsoft Outlook data file.
This software gives you the option to create separate PSTs for each folder.
Maintain folder hierarchy on disk and file structure too.
Saving EML files does not change EML SMTP message headers.
The tool can be used to split large Outlook data files into several smaller chunks based on their size.
The resulting file is available in Microsoft Outlook 2019 and lower versions.
Runs on Windows 11 (64-bit), 10, 8, 7 and Windows Server 2016, 2012 R2, 2008.
Closing Lines
In this blog, We explain how to save Gmail to EML file. Saving Gmail to EML format completely is very easy with the simplest methods. With the solution given above you can reliably save Gmail as an EML file on your PC with just a few mouse clicks. Also, the software solution given to save Gmail EML files into Microsoft Outlook data format too.
If you have any technical problems or questions related to this conversion. Please contact our technical support team.