How to Import Google Takeout to Outlook 2019, 2016, 2013?
Users are often searching for workarounds to import Google Takeout to Outlook 2019, 2016, 2013, 2010, 2007, 2003, 2000 and other versions. Google Takeout is a free service for storing Gmail (Google account) data, but does not provide a perfect solution to convert MBOX to PST manually.
Microsoft Outlook supports PST files as a default, so users need to transfer Google Takeout mailbox to PST file format in order to access Google Takeout email in Outlook application. That's why this blog provides a useful and reliable solution to import Google Takeout to Outlook.
Introduction of Google Takeout
Google Takeout is like a backup facility, service, or project with the Google Data Liberation Front team. This service allows Google users to download Gmail account backups to a ZIP file. The ZIP file contains a separate folder for all services selected for conversion. It helps to migrate all data of various services. that the service user has chosen This service allows users to back up their Google accounts such as emails, calendars, and contacts.
Also Read: Import Emails from Thunderbird to Outlook 2019, 2016
How to Use Google Takeout Service?
Let's see step by step guide to transfer Gmail emails into MBOX format:
Step 1: First, log in to the Google Takeout Account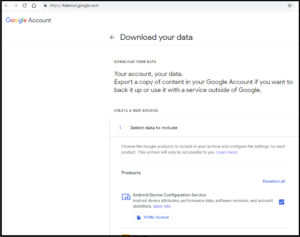 Step 2: Under "Select data to include", uncheck all option. Find and select only the "Mails" option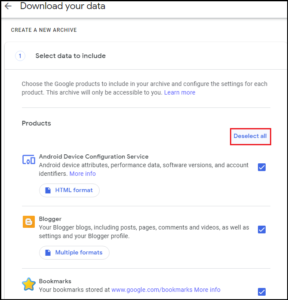 Step 3: Click on Next Step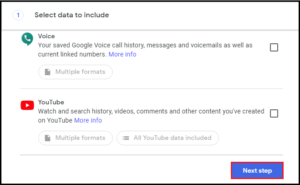 Step 4: Under Customize Archive format, Select "Send Download Link Via Email"
Step 5: Two Export Option: .tgz and .zip, select .zip option

Step 6: Select Archive Size option: 1 GB, 2 GB(Default), 4 GB, 10 GB and 50 GB
Step 7: Next, Click on Create Archive and process will start
Step 8: After It's done, click the Download button or check your email to download the data.
How to Transfer Google Takeout to Outlook?
Microsoft Outlook 2019, 2016, 2013, 2010, 2007, 2003, 2000 does not support the MBOX format, so looking for a direct manual solution is out of the question.
In these situations, a reliable and secure software solution will help. Choose RecoveryTools MBOX Migrator solution. This is a trusted software that helps you to migrate MBOX file into Outlook.
The best part of the tool is to ensure that the conversion doesn't require Outlook and that every emails with attachments of the Google Takeout file is stored in the converted PST file.
Some of Highlighted Features of the Tool are:
Import Multiple MBOX Files to Outlook on Windows OS
The Software Supports MBOX, MBS and MBX File Formats
Transfer MBOX, MBX, MBS by File, Folder, Default Profile Mode
Import MBOX Emails with Attachments to Outlook Data Files
Supports Windows 11, 10, 8, 7, Windows Server 2016, 2012 R2, 2008
Import Google Takeout to Outlook – Video
Know how to import Google takeout emails into Outlook by a video representation.
Conclusion
The above-suggested workaround or method for importing Google Takeout mailbox data to Outlook without problems or errors. This is a great way to transfer your Google Takeout data to your Outlook email client.
Google Takeout is a free feature that allows you to back up your Google data. However, there is no way or workaround to direct importing Google Takeout to Outlook 2019, 2016, 2013, etc.