How to Repair OST File in Outlook 2007?
MS Outlook uses two types of storage files; PST and OST file. When you configure your MS Exchange account with MS Outlook, one copy of your mailbox is saved as an OST file locally on your computer where MS Outlook has been configured. This allows you to work offline as the messages stored in OST file can be easily accessed using the MS Outlook application. But occasionally it is found that this OST file becomes inaccessible due to various reasons and this ultimately raises a question that how to repair OST file in Outlook 2007? Well, the section elaborated below will help you get an answer for this quest.
OST Integrity Check Tool Must Be Your First Initiative
As soon as the OST file is damaged the aftermath is thrown to your MS Outlook application running OST file with errors showing that the file has damages. It is also noted that some data is missing from the OST file which is present in the Exchange Server. MS Outlook is integrated with a repair utility to overcome minor inaccessibility issues which is popularly known as scanost.exe repair utility.
This is an inbuilt application and checks for the file integrity issues in OST file repairing it to make it accessible again. This integrity check tool usually scans both the mailbox on sever and OST file to diagnose the synchronization. Any discrepancies are noted and resolved by the tool. If you are an Outlook 2007 user, then you will be able to utilize this application for your damaged OST file. Let us go through some common queries users usually face while interrogating Scanost.exe utility. It will also help you know basic information of how to repair OST file in Outlook 2007.
Where is OST File located?
For MS Outlook 2007: drive:\Program Files\Microsoft Office\OFFICE12
Can I use Scanpst.exe?
No. Scanpst.exe is only for Outlook PST file. For OST file you will have to use the Scanost.exe utility.
What is the difference between OST and PST?
OST, as mentioned above, is created when Outlook is configured with MS Exchange. PST file is however used for IMAP, POP3, and web-based mail accounts.
Do I need to close MS Outlook before repairing?
Yes. It is highly recommended to Exit Outlook before running the scanost.exe utility.
Are there any chances of data loss?
Yes. It must be noted that basic agenda of this scanost.exe is to make your OST file accessible. And if any email or set of emails is unreadable by the tool, it can be considered as corrupted and might get permanently deleted to vanish a roadblock in file accessibility.
How to avoid OST data losses?
It happens rarely though, but it is better to take a backup before running scanost.exe application.
Is Exchange Sever connection compulsory?
Yes. You must be connected to Exchange Server to perform this check.
Does it affect the data in mailbox saved on server?
No. The scanost.exe only repairs the OST file saved locally. No changes will be done or repair will be done to the mailbox saved on server.
Will this repair utility work on OST file with core corruption?
No. If your OST file has severe corruption, this inbuilt utility might not work.
Execution of Scanost.exe Repair Utility
Step 1: Go to drive:\Program Files\Microsoft Office\OFFICE12 and double-click Scanost.exe

Step 2: In case your Outlook has been set to prompt for profile, this tool will do the same. From the Profile Name list choose the profile name having the OST file which is supposed to be repaired.
Note: Click Connect, if prompted to Connect or Work Offline.
Step 3: Select the option as per your requirements.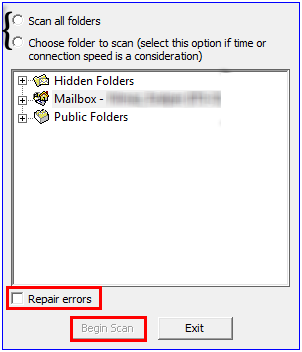 Note: Check the Repair Errors box if you want to simultaneously resolve the damages in OST file. If you do not check this check-box, issues will be recorded but will be not resolved.
Step 4: Click on Begin Scan.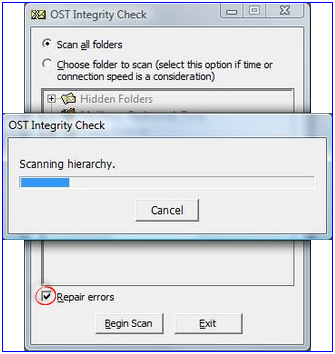 What if Scanost.exe Fails to Fix it?
It is quite possible that even after running the integrity check tool, OST file still is inaccessible or throws errors. Along with this, it must be noted that MS Outlook 2010 does not have scanost.exe utility. For such situation, it is recommended to re-create the OST file from Exchange Server account. It is important to have access to the mailbox and exchange server to do so. And it is also important to have the account active. In case your OST file is orphan and the Exchange account is inaccessible or deleted then you must avail professional software which deals with orphan OST file as well. You can go for RecoveryTools for Exchange OST which is capable to resolve every type of OST inaccessibility issues. It is compatible with all the Outlook OST files helps you know how to repair OST file in Outlook 2007. It also recovers data from orphan OST file without requiring Exchange server connection.