Exchange Remote Connectivity Analyzer (ExRCA)- The Foremost Tool
Many a time, Exchange administrators encounter connectivity issues with Exchange Server. The issue can be identified and resolved by the free utility ExRCA short for Exchange Remote Connectivity Analyzer. It is a web-based application provided by Microsoft which test ActiveSync, Autodiscover, Exchange Web Services, Outlook, and Internet connectivity. The article is discussing the same by showing the different aspects of the tool in depth.
Overview of the Tool
ExRCA helps Administrator to find and troubleshoot the issues in the server. It is a web based utility, generally troubleshoots the connectivity issues, whenever the admin find out any connection problem, he can run EXRCA test. Once the tool identifies the origin of failure, it will offers suggestions and tips to troubleshoot the encountered problem. After applying the required actions, admin can re-run the application in order to make sure that connection problem has been tackled or resolved. Besides, it also allows administrator to execute connectivity diagnosis for the server to test common issues and also assist him for remote end to end diagnosis.
Different Test of Exchange Remote Connectivity Analyzer (ExRCA)
The utility consists of various tests and their corresponding suggestions/tips which need to be applied so as to resolve the problem efficiently. The below list of several tests will troubleshoot the connectivity issue caused by ActiveSync, Autodiscover, and SMTP/POP/IMAP emails.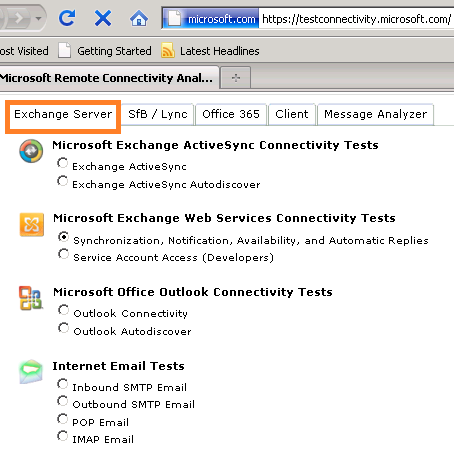 Microsoft Exchange ActiveSync Connectivity Tests
Exchange ActiveSync- This test needs to be performed when there is a problem while connecting mobile device to Exchange server using ActiveSync.
Exchange ActiveSync Autodiscover- This test simulates the issue when ActiveSync device uses Autodiscover service.
Microsoft Exchange Web Services Connectivity Test
Synchronization, notification, Availability, and Automatic Replies- It helps admin to validate Exchange web services (EWS) task. This test is helpful when Entourage Exchange web service needs to be diagnosed.
Service Account Access- Using this test, Exchange server remote connectivity analyzer enables application developers to check the accessibility of mailboxes with alternate credentials.
Microsoft Office Outlook Connectivity Test
Outlook Connectivity- As the name suggest, this test troubleshoots Outlook connectivity which uses RPC over HTTP and MAPI over HTTP.
Outlook Autodiscover- This test is useful to simulate Outlook Autodiscover service.
Internet Email Test
Inbound SMTP- This ExRCA test demonstrate the steps an Internet email server uses to send inbound email to your network domain.
Outbound SMTP Email- Outbound IP address, Reverse DNS, Sender ID, and RBL can be checked by this test.
POP Email- This test demonstrate the steps an email client uses to connect to an Exchange mailbox using POP3.
IMAP Email- This test walks through the steps an email client uses to connect to an Exchange mailbox using IMAP4.
Conclusion:
Exchange Remote Connectivity Analyzer (ExRCA) is very crucial tool designed by Microsoft, to tackle different connectivity issues with the help of different tests. With the different tests, the utility will locates the origin of failure and also offers the tips to troubleshoot the problem. User can again run ExRCA tool in order to make sure that the connection problem has been resolved.