How to Extract Attachments from MBOX File? Direct Solution
There is no direct way to manually extract attachments from MBOX files. Previously, there was a plugin available in Mozilla Thunderbird email client, but it is still outdated and useless.
Since there is no manual method, users turn to automated solution. The Internet is full of such tools, but the question remains whether they are reliable.
Therefore, this article will introduce you to a simple, efficient and tested Tool to extract attachments from MBOX file. It has high performance and accuracy and above all it comes from a trusted brand.
Now let's take a closer look at the features and working steps of this software.
Extract MBOX Attachments by RecoveryTools
The functionality of this software is determined based on its performance, flexibility and accuracy. The flexibility element supports the extraction of email's attachments. RecoveryTools MBOX Viewer Pro is high on all three sides, and the powerful algorithms provide high performance and flexibility while producing accurate results.
This tool provides an option to Convert MBOX File to PDF with all attachments. Also, this software offers to extract attachments from the MBOX files into a separate folder. All the MBOX attachments save into their native format without any changes or errors.
Top & Best Features of the Software
The main features of this software solution are listed below.
Works with MBOX (with or without extension), MBX and MBS files.
You can add and process multiple files at the same time.
You can use the date range filter to extract attachments from a specific range of emails.
Naming conventions are provided for both attachments and attachment folders.
Supports Windows 11 (64-bit), 10, 8, 7, and Windows Server 2016, 2012 R2, 2008.
Steps to Extract Attachments from MBOX
Follow the steps mentioned below to extract MBOX attachments:
Step 1: Open Tool and Add MBOX File / Folder
Step 2: Preview Loaded Emails & Click on Export. Select PDF Option
Step 3: Next, Open Advanced Settings Option and Select Attachment Option
Step 4: In Attachment Settings, Select Save Attachment. Click on Save Button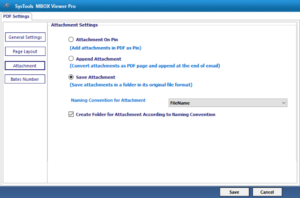 Note: You can use Naming conventions for both attachments and attachment folders.
Summing Up
It is no coincidence that the demand for this software is very high, as many email clients use MBOX files to store their data. Whether it's an orphaned MBOX file or an MBOX associated with an email client like Thunderbird, Apple Mail or Gmail, users need a tool to extract MBOX attachments.
So, in this article, We introduced you a simple and efficient software which can not only extract attachments from MBOX files, but also provide multiple functions in the meantime. It will certainly serve its purpose and give you excellent performance as it has done for thousands of users.