Exchange Server Error Code 528 – Overview
This problem causes Exchange Server to stop working when users try to open the service in the Microsoft Exchange Information Store. The error is similar to JET_ErrMissingLogFile.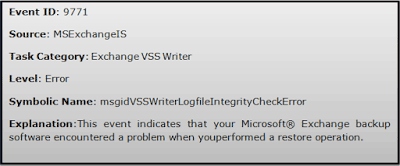 Causes for Exchange Server Error Code 528
Exchange error code 528 is related to the edb.chk and edb.log files.
Exchange edb.log: The Exchange server directory saves a copy of changes made to the database in a log file. The Ntds.dit database maintains transaction log files to ensure that its users have access to data in the event of a problem.
However, the Exchange Server's edb.chk file follows a mechanism whereby all historical logs are removed from the machine and then permanently archived to disk. This mechanism is called a checkpoint.
This error occurs when the edb.chk and edb.log files are corrupted or missing from the Exchange server directory.
Measures to Deal with Exchange Server Error Code 528
There are two ways to solve this problem, Automated (already mentioned) and Manual method are explained in detail below:
Manual Procedure for Exchange Error 528
Manual method involves the use of application log files or checkpoints generated in the Exchange Server directory. To resolve Exchange Server error code 528, follow these steps:
First, check the application log (the file reporting the event), as this will give you a brief insight into the root cause of the error.
Restore the backup now to avoid future Exchange Server error messages.
Finally, analyze the server settings and reboot your machine.
Limitations of Manual Procedure
This method is very reliable for users with a brief understanding of Exchange Server.
Activities such as log file analysis, server configuration, etc. they can be time-consuming processes for administrators.
Conclusion
After reviewing the above information, it can be concluded that the best way to get rid of Exchange server error code 528 is to use a workaround as this strategy can resolve the error without any complexity. Furthermore, automated solution is known to generate unrestricted results and provide users with pre-tested programs to ensure their reliability.