To perform the process of convert Excel contacts into blackberry device, first stage will include the steps for exporting contacts saved into Excel spreadsheet into VCF File format. Follow the step-by-step guide to securely copy contacts from Excel file.
Download & Install "Microsoft Excel to vCard Converter" software, Click on

"Browse"

to add XLS, XLSX or CSV File, check preview of loaded Excel file and then click on

"Next"




After adding Excel file into the software successfully, start mapping your Excel field with vCard field one by one. After mapping every field of Excel and vCard, click on

"Add"

option. Once done with the mapping process, click on

"Next"




When the process of Excel file to vCard conversion completes, then here comes the method to copy VCF file into MS Outlook. This stage contains 2 simple steps for adding VCF file into Outlook.
Open Folder that contains the required VCF file, Select all VCF file by pressing

"CTRL+A"

, now drag all files at once and drop them into Outlook contacts folder.




Now manually click on

"Save & Close"

option to store the VCF contacts into Outlook contacts.


Blackberry doesn't have any direct procedure to import contacts from Excel sheet into Blackberry, that's why it is first required to convert the Excel contacts into VCF file, the VCF file is further transferred into Outlook platform and then the process to transfer Outlook contacts to Blackberry comes.
To know complete guide for importing Outlook contacts into Blackberry device is discussed in the upcoming section
To access, synchronize and organize a Blackberry device on your machine, you need a mediator like
For Blackberry 7.1 or below version, you need to

install Blackberry Desktop Software

For 10.0 & above Blackberry Version,

download & Install Blackberry Link
I am exemplifying the entire process here with a Blackberry Phone running on Blackberry 7.1 OS. After downloading the Exe file for this application, install it on your machine following the steps provided within it.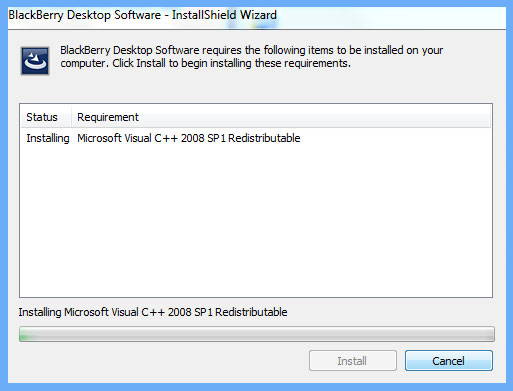 Now connect your Blackberry device using

"original Blackberry USB cable"






Once the device gets successfully detected by the software, it will be opened in Blackberry Desktop Software, now click on

"Organizer"

option




Now select

"Contacts"

from the available options and click on

"Configuration"






To set up synchronization for contacts, you need to do some modifications like from the drop down menu select

"One Way to your Device Only"

option as it's a one way process of copying contacts from Outlook profile into Blackberry device




Now select

"Outlook Profile"

in case you are using multiple profiles in Outlook. Once done with the changes, click on

"Ok"






Now you can easily view, that Microsoft Outlook is successfully added with the contact option, click on

"Sync Organizer"

option given at the bottom right.




A pop-up window will appear showing

"synchronization procedure"






Once the process of Synchronization of Outlook contacts with Blackberry Device completed, a success message will appear.




Finally, a pop-up window will appear showing

"successful transfer of Outlook contacts into Blackberry device"






Once the entire process gets accomplished you can now access Excel contacts into Blackberry phone. Excel to Blackberry converter can transfer multiple contacts from Excel sheet into Blackberry device.